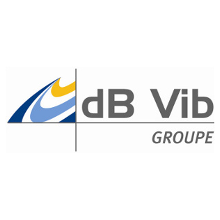 Téléchargements
Video file -
dB Vib GROUPE
Service, ingénierie et vente de matériel pour la maintenance conditionnelle, l'expertise vibratoire et acoustique.
Activité / Expertise
Dimensional and three-dimensional measurements
Contact
Montée de Malissol 38 200 Vienne
Informations
dB Vib Instrumentation: Sale or rental of innovative measurement solutions for maintenance and R&D. The range of measurement equipment covers needs in the fields of noise, vibrations and conditional maintenance (infrared thermography, ultrasonic detection, alignment and geometric laser measurements, balancing, etc.). dB Vib Consulting: Study and expertise office in the field of noise, vibrations and condition-based maintenance, for more than 20 years. Training organization in these fields. Mechanical, climatic and acoustic testing laboratory. dB Vib Engineering: Solutions for the acoustic and vibratory improvement of installations. Solutions for air treatment. Study and design of test laboratories.