INTELLIGENT SOLUTIONS for INDUSTRIAL METROLOGY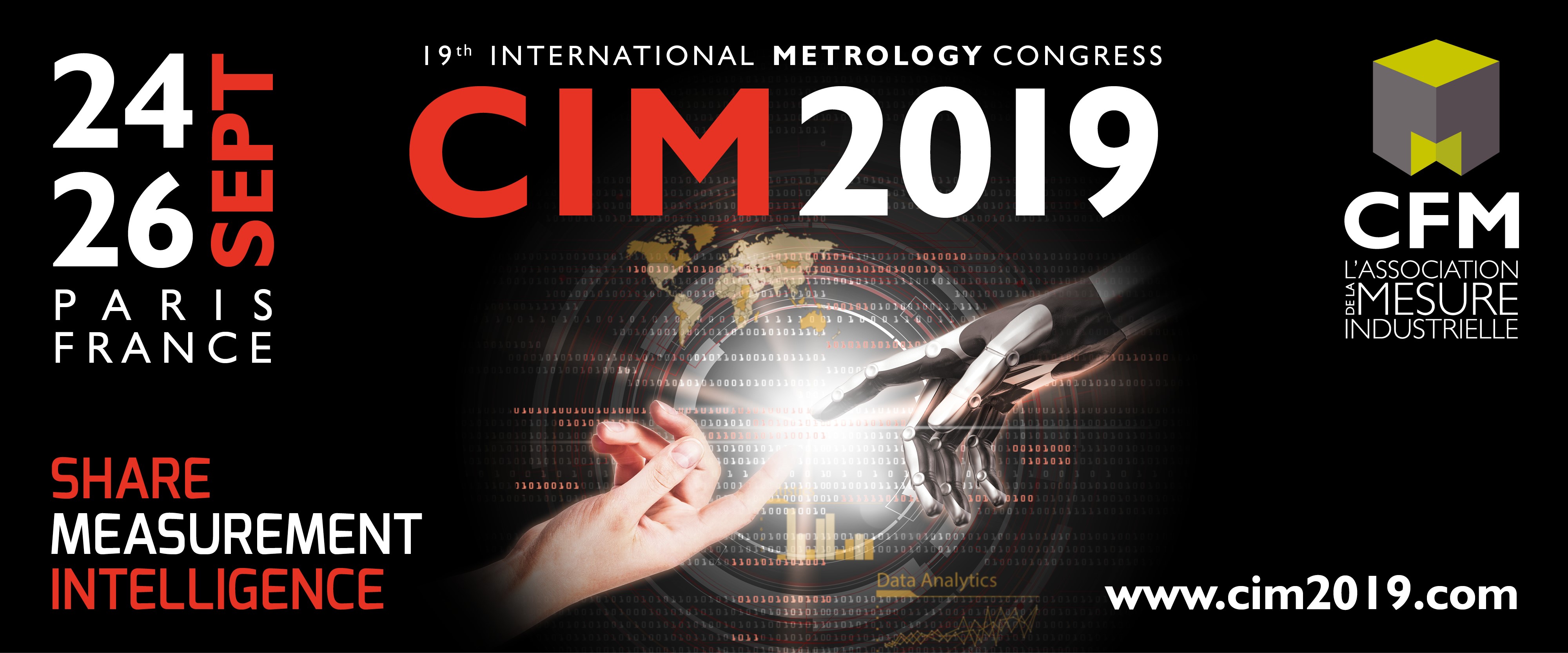 INTELLIGENT SOLUTIONS for INDUSTRIAL METROLOGY
The International Metrology Congress will take place from September 24 to 26, 2019 at Paris-Porte de Versailles, in partnership with the new Measurement World trade fair.
Metrology is at the heart of the evolution of industrial processes with the development of the industry of the future : smart sensors, advanced production, data processing and security, reliability of results, IIOT, IA, business development, energy efficiency, etc.
The CIM is a unique event in Europe, acclaimed by the entire profession.
A showcase of practical solutions, R&D advances and perspectives open to industry with the mastery of measurements and industrial processes.
THE PUBLIC
1000 participants
45 countries and 35% from foreign participants
70% manufacturers in all sectors of activity
30% organizations, research laboratories, teachers
The strong subjects are present in the 200 CONFERENCES AND 6 INDUSTRIAL ROUND TABLES :
Smart sensors for optimized production
Additive manufacturing : the challenges of measurement and control
ISO / IEC 17025 (2017): first feedback
Training, Trades and Recruitment for Industry 4.0
Contribution of metrology to to quantify climate change?
Security and traceability of the measuring chain
The plenary conference "SHARE MEASUREMENT INTELLIGENCE" is centered on the contribution ofAI metrology, the use of Data and the Machine learning
ORGANIZERS, PARTNERS AND SPONSORS
The Congress is organized by the French College of Metrology in partnership with Euramet, European cooperation for Accreditation, the BIPM, the OIML, the NCSLi, the NPL, the PTB and the SPF Economy for international participation.
Industrialists and technical experts complete the organization: BEA Métrologie, CETIAT, Cofrac, Digiplant Consulting, Implex, LNE, PSA Group, BOSCH, TRESCAL, STIL, University of Burgundy.
The Platinum Partner of CIM2019 is TRESCAL.
The event also benefits from the following support from industry: CETIAT, Hexagon Manufacturing Intelligence, Implex and Metrologic Group ; and public authorities: DGE, directorate of the Ministry of Economy and Finance, and Ministry of Culture.
What's up ?
·         INVITED CONFERENCES
Metrology of the future: are you ready for digital - M. Eichstadt - PTB (Germany)
Measurement in the context of the autonomous vehicle - Mr. Abadie - PSA Groupe (France)
Light and photon: quantum technology and applications for the future Ms Rastello - INRIM (Italy)
Advances in imaging for pharmaceuticals - Mr. West - GSK (UK)
European metrology network for climate and ocean observation - Ms Woolliams - NPL (UK)
·         DEMONSTRATIONS of START-UPS and NEW TECHNOLOGIES
Space dedicated to the exhibition of innovations
·         MEASUREMENT WORLD EXHIBITION
With daily entertainment on the Metrology Village, where visitors to the show and exhibitors who wish to get closer to the CIM meet.
At the beginning of April, the Metrology Village, placed at the heart of the Measurement World exhibition, already includes more than 1000 m² of stand:
2M PROCESS, A2LA, ACALIME, ACEI, AEQUOLTD, AEROMETROLOGIE, ALICONA, ALTIMET, ALTO INSTRUMENTS, AMETEK, AOIP, AREMECA, ASC INSTRUMENT, ATER METROLOGIE, AYONIS, BEA METROLOGIE, BEAMEX, BE-CORERTL, BRONKHKER, FRANCE, BRONKHKER , CETIAT, CETIM, COFFMET, COFRAC, CZECH METROLOGY INSTITUTE, DELTAMU, DIMELCO, E + E ELEKTRONIK, FARO France, FELIX INFORMATIQUE, FENSOR, FISCHER INSTRUMENTATION ELECTRONIQUE, FLUKE CALIBRATION, FURNESSLINE GEDOMURROLS, GEDESSLINE CONTROLS & INSTRENTS , HEIDENHAIN, IMPLEX, INNOVALIA METROLOGY, INSAVALOR, INSTRON, JRI, KEYSIGHT TECHNOLOGIES, KIMO INSTRUMENTS, KREON TECHNOLOGIES, LNE, LOT QUANTUM DESIGN, LYCEE TECHNOLOGIQUE PRIVE JULES RICHARD, MAHR France, MANUMESURE, MB ELECTRONY, MCE GROUP METROLOG, METROLOG, METROLOGY , METTLER TOLEDO, MI - EUROPE, MICRO EPSILON France, MITUTOYO France, NIKON METROLOGY, NPL MANAGEMENT, OGP France, OLYMPUS France, OMICRON TECHNOLOGIES, PCB PIEZOTRONICS, POLYWORKS EUROPA, RADWAG WAGI ELEKTRONICZNE WIT OLD LEWANDOWSKI, RENISHAW, SARTORIUS Stedim, SEMATEC, SIKA France, SOFIMAE, STIL, TELEDYNE LECROY, TESTO INDUSTRIAL SERVICES, TRESCAL, VIAXYS, VICATRONIC, VISION ENGINEERING, WERTH MESSTECHNIK FRANCE
Participating in the CIM is ...

 

… Meet good people who will lead faster to "good" solutions

... tie a real professional relationship with counterparts and develop your network

… Meet global research experts, contributors of outlook

… Understand the decision-making contribution of metrology in industrial processes

… Discover the technologies and solutions for everyday life and for tomorrow

 
The program and online registration are available on the site www.cim2019.com
Press information :
French College of Metrology
04.67.06.20.36  –  info@cfmetrologie.com  –  www.cim2019.com