Tech' Days « Logistique » – 12 octobre
Le 12/10/2021 de 08:00 à 10:30
Logistique – mardi 12 octobre 2021 à 8h00
Meet companies who share their experience
And collaborate with the innovative structures of the territory
Or join business-generating business networks
For more info
celine.bertin@cyu.fr
eleonore.izquierdo@cergypontoise.fr
Tech'Days 2021
Your meetings with innovation on Tuesdays from 8 a.m. to 10:30 a.m.
An event proposed by the Cergy-Pontoise agglomeration community, CY Cergy-Paris University and the CESE95.
Logistique – mardi 12 octobre 2021 à 8h00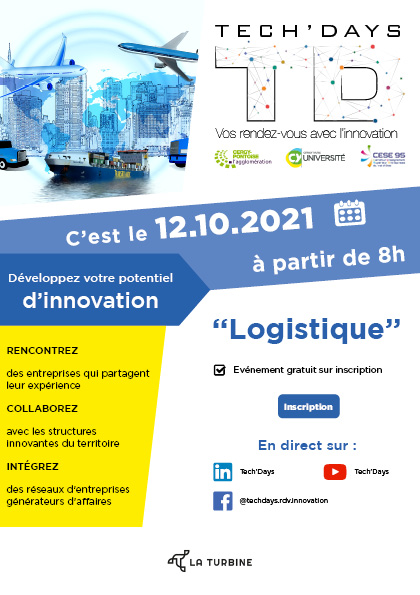 Address : La Turbine – 32 Boulevard du Port – 95000 Cergy – Possibilité de stationnement dans la rue devant le bâtiment.
Programme prévisionnel :
Les enjeux de la logistique – NextMove
La Logistique chantier pour la ville de demain – Tarik BABA, fondateur de BATAIL-LOG
Réflexions autour de l'optimisation d'un système pour booster votre logistique – Rafik ABSI, Directeur de la recherche ECAM-EPMI
La logistique et les enjeux de la formation initiale et continue – Antoine BEYER, Professeur des universités, Co-Responsable du Master Management Logistique & Cursus Master en ingénierie (CMI MRTM), CY Cergy Paris Université
Attention : afin de respecter les normes sanitaires, le nombre de place est limité et les inscriptions obligatoires, par ailleurs en fonction du nombre participants un passe sanitaire valide pourra être demandé. Dans le but de donner accès à notre évènement au plus grand nombre, l'évènement sera enregistré et retransmis en direct sur nos réseaux sociaux Tech'Days. Toute personne n'ayant pas pu assister au format présentiel pourra ainsi suivre l'évènement à distance ou en rediffusion sur notre chaine Youtube dédiée.