Tech 'Days "Logistics" - October 12
The 12/10/2021 from 08:00 to 10:30
Logistics - Tuesday, October 12, 2021 at 8:00 a.m.
Meet companies who share their experience
And collaborate with the innovative structures of the territory
Or join business-generating business networks
For more info
celine.bertin@cyu.fr
eleonore.izquierdo@cergypontoise.fr
Tech'Days 2021
Your meetings with innovation on Tuesdays from 8 a.m. to 10:30 a.m.
An event proposed by the Cergy-Pontoise agglomeration community, CY Cergy-Paris University and the CESE95.
Logistics - Tuesday, October 12, 2021 at 8:00 a.m.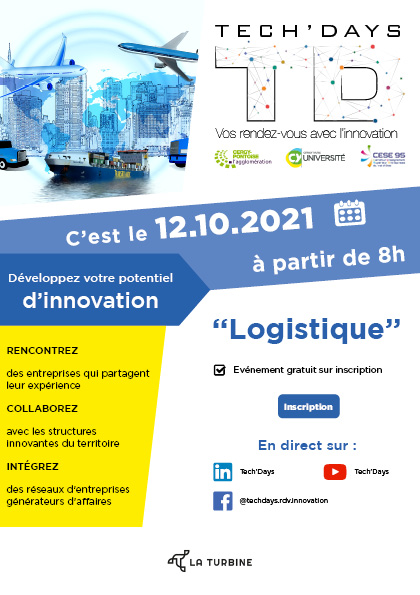 Address : La Turbine - 32 Boulevard du Port - 95000 Cergy - Possibility of parking in the street in front of the building.
Provisional program :
Logistics challenges - NextMove
Site logistics for the city of tomorrow - Tarik BABA, founder of BATAIL-LOG
Thoughts on optimizing a system to boost your logistics - Rafik ABSI, Research Director ECAM-EPMI
Logistics and the challenges of initial and continuing training - Antoine BEYER, University Professor, Co-Head of the Master in Logistics Management & Master in Engineering (CMI MRTM), CY Cergy Paris University
Please note: in order to comply with sanitary standards, the The number of places is limited and registration is compulsory.In addition, depending on the number of participants, a valid health pass may be requested. In order to give access to our event to as many people as possible, the event will be recorded and broadcast live on our Tech'Days social networks. Anyone who has not been able to attend the face-to-face format will be able to follow the event remotely or in rebroadcast on our dedicated Youtube channel.