Evolutia France joins Amrikart Group

Global Industrie Fair in Lyon, France | September 6, 2021 - Amrikart Group, North American leader in 3D metrology solutions, is proud to announce the integration of Évolutia, a French company providing 3D metrology solutions.

Amrikart Group was already made up of Amrikart Ultraprecision, specialized in high-precision and large-scale 3D metrology services and automation, and 7D Kinematics, producer of iGPS technology, located in North America. Évolutia, a company in the south of France specializing in 3D metrology services and automation of smaller dimensions, is joining Amrikart Group and complementing its offer.

This integration allows the establishment of Amrikart Group in Europe as well as the extension of its metrological offer. Already very present in aeronautics, transport, maritime, energy and heavy industry, Amrikart Group is expanding its presence in the fields of pharmaceuticals, luxury goods, motor racing, arts and culture. This integration gives the group an additional competitive advantage to offer its customers automated metrological solutions and services of very high added value, in all areas.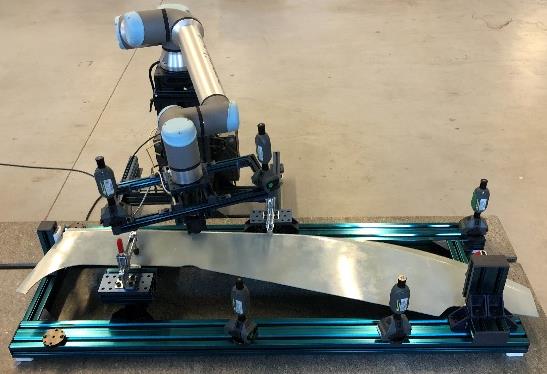 The collaborative work between Amrikart Ultraprecision, 7D Kinematics and Évolutia enabled the development of the Harfang AE-01 system presented at the Global Industrie 2021 trade fair. This system combines the micrometric precision of a confocal sensor with the large scope of the iGPS system to create a solution large-scale multi-surface inspection robot. It is a first joint project resulting in an innovative product.

"Amrikart Group is making two major advances with the integration of Évolutia, the extension of its offer to the small-scale sector, and the group's establishment in Europe. It is the fruit of a very fine technical and human collaboration, and which strengthens Amrikart Group as a world reference in services and automation of 3D metrological solutions. We are delighted to be able to offer our customers a full range of metrology services, as well as a physical presence in America and Europe. "
Jean-Francois Delorme, President of Amrikart Group and Nathalie Tremblay, Vice-president of Amrikart Group
"Integrating Amrikart Group and adding our expertise to an already very diversified offer is a strategic development for the company. The complementarity of our activities, as well as our geographical positioning, allows the development of our services and technological solutions throughout the world. Évolutia is proud to join a human-sized group with renowned technical expertise, in which it will be able to develop in accordance with its values. "
Stéphane Murcia, President of Évolutia
About Amrikart Group
Amrikart Group brings together Amrikart Ultraprecision, specialized in 3D metrology services, advice and automation, and 7D Kinematics, exclusive owner of iGPS System technology.
Amrikart Group offers complete 3D measurement and alignment services as well as turnkey automated solutions to increase performance in the manufacturing and assembly of medium to large volume products in the aviation industry. , space, defense, navy, transport and energy. Amrikart Ultraprecision has more than 25 years of expertise in 3D metrology of large dimensions and very high precision. It stands out on the market with the design and implementation of assembly solutions assisted by real-time metrology, successfully deployed in the final assembly lines of Airbus A220 commercial aircraft.
The company also provides the support, engineering expertise, specialized tooling and software applications that participate in its turnkey integrated solutions.
For more information on Amrikart Ultraprecision, please visit: www.amrikart.com
About Évolutia
Created in 2012, the company Evolutia is specialized in metrology, engineering and industrial robotics of small to medium dimensions. Located on the Castelet circuit in Signes, France (83), the company provides geometric and three-dimensional control services in laboratories, on industrial sites, and also engineering, 3D scanning and dimensional metrology services. Its fields of activity are aeronautics, naval, defense, energy, automotive and medical.
Evolutia intervenes in many situations: geometric and surface checks, periodic verifications and re-compliance (ATEX-GIES-PR1 option CR), 3D scanner, reverse engineering and 3D metrology. Évolutia also provides transfers and implementations of tools, technical assistance, rental and advice.
Evolutia has notably achieved major innovations in the automated loading of three-dimensional measuring machines in the pharmaceutical industry.
For more information on Évolutia, please visit: www.evolutia.fr
Business Development and Public Relations:
Stéphane Murcia | CEO
M: +33 6 20 16 50 99
E: stephane.murcia@evolutia.fr
Badr Boushel (Brad) | Director of Sales and Business Development
M: +1 (438) 832-2634
E: b.boushel@amrikart.com