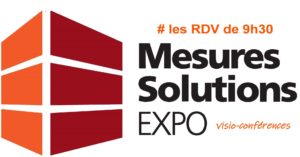 Technical conferences

measurement, 

in video
Until March 2021
Meetings at 9:30 am ...
2 to 3
videoconferences
per week 
Need to recruit or looking for a position? 
Need a solution? Ask the specialists at Measures Solutions EXPO   
 The virtual exhibition of 3D measurement solutions, Creaform Ametek
Flagship action of the Measurement Network for the year 2020, the 3th edition of the Measurements Solutions EXPO2020 LYON exhibition was canceled by prefectural decision.
Being as close as possible to customers is the motto of Measures Solutions EXPO. By offering a general offer meeting multiple potential needs, the exhibitors wished to bring together measurement professionals in the same place in order to offer them complete solutions. Visitors can thus access a diversified offer, whatever their expectations, techniques and processes used.
Innovative products will be present along with the most advanced know-how, both on the stands and during the exhibitor workshops.
Organized around more than 130 stands , visitors will discover nearly 300 major French and international brands.
From advice to the realization of projects, the experts present at this show will advise visitors not only through the innovative solutions presented on their stands, but also through the organization of around twenty thematic workshops, during which they will present their know-how and their novelties.
The French College of Metrology
event partner
In this context the French College of Metrology will animate the Pavilion "Metrology Innovation" of the show, a space dedicated to CFM members who wish to get closer to this theme. It also organizes a series of conferences on topics in line with industrial needs and quizzes focused on quality, methods and techniques, as well as fun and pragmatic animations on metrology: Will you have the right measure?