NEW 152 G7-E Optical Speed Sensor
On the occasion of his 60th birthday this year, OPTEL-TEXYS is proud to present its brand new miniaturized on-board optical speed sensor: 152 G7-E.
This lightweight product can adjust automatically its settings for detect rotating parts in most of the cases.
Her size compact allows installation in small and narrow places.
The 152 G7-E sensor remains "plug & play" with existing fiber optic probes fromOPTEL-TEXYS.
It is suitable for in-vehicle measurements, on track and on test benches.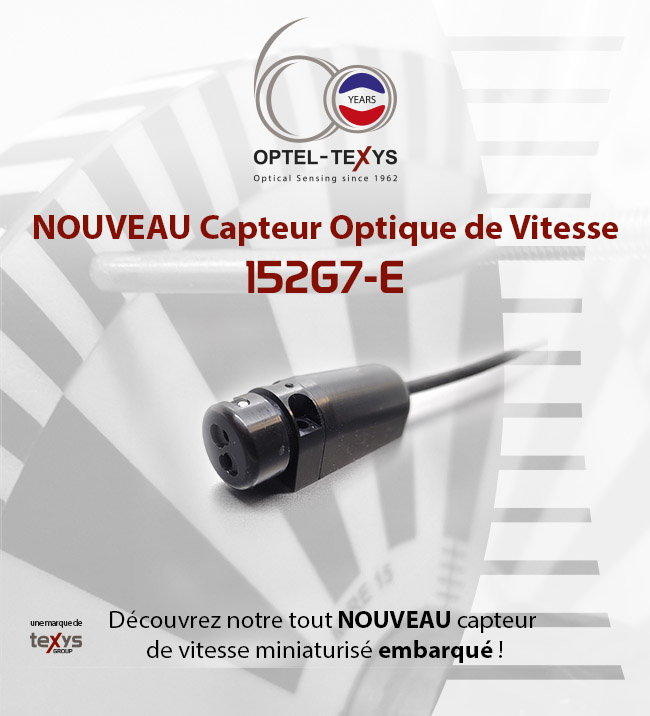 Here are its main features:
On-board, compact and lightweight optical speed sensor
Anodized aluminum alloy housing
Special protection against temporary short circuits
Detection range 1-5mm
Switching frequency 0-300 kHz
Operating range from -10 to +70°C
For more information and the technical sheet:
https://www.optel-texys.com/fr/152g7-e-1-354.html
To note :
OPTEL-TEXYS will be present at the show EXPO 2022 Solutions Measures on October 5 and 6 in Lyon, stand B12
TEXYS Group is one of the leading manufacturers of electronic measurement and detection devices. For more than 20 years, we have been designing, developing, manufacturing and marketing our wide range of TEXENSE® sensors for on-board measurement and monitoring (pressures, forces, temperatures, speeds, inertias, currents) and are recognized worldwide as experts in different technologies. (infrared, fiber optic, strain gauge, wireless communication, signal conditioning). Thus, the products and services are widely used in various industries such as motorsport (Endurance, Formula 1™, Formula E™, Indycar™, Moto GP™, NASCAR™, Rally), aeronautics, space, automotive (manufacturers and equipment manufacturers ), marine, shipbuilding and railway.
---
The TEXYS Group develops its international commercial activities around its brands TEXENSE®, LGS by TEXYS and OPTEL-TEXYS, thanks to its subsidiaries and its distribution network. The ambition of TEXYS Group is to further expand developments around their range of technical products and services at the best quality/price ratio.