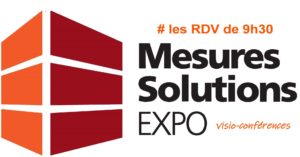 Special number Measures Solutions EXPO
with Controls Tests Measures
May / June 2021
This edition will consist of:
technical content with the "9:30 am appointments" from November 2020 to April 2021

(free for speakers) 

and a market focus and advertising spaces open to all members
The Special Measurements Solutions EXPO issue will be distributed in addition to the May / June 2021 issue of Measurements Testing with an additional offer reserved for members of the Measuring Network in the form of packs:
1 visual page + 1 advertising-editorial page: € 1,600 excl.
1 half-page of visual + 1 half-page of editorial (on the same page): € 1,200 excl.
Non-member rates: € 2,400 full page excl.tax and € 2,000 half-page excl.
Special rates for visuals on the cover to be viewed directly with CEM.
A digital flip-through and downloadable version will also be freely accessible on the Contrôle Essais Measures website in exchange for contact details.
The special issue of Measurements Solutions EXPO in May will also be broadcast at trade fairs dedicated to measuring the start of the September 2021 school year.
Contact: Céline Dewaele - Tel: +33 (0) 6 07 56 65 02 - Mail
The production of this edition is subject to the commitment of a minimum number of members.
The Special Issue Measures Solutions EXPO - PLANNING
● Diffusion with the number CEM 75: May / June 2021
● Editorial engagement deadline: May 5, 2021
● Advertising commitment deadline: May 15, 2021
● Submission of editorial elements: May 5, 2021
● Transmission of technical advertising elements: May 28, 2021
Additional options:
- writing assistance following an interview with our editorial team: 350 € HT
- sponsored content on CEM site (1 week) with 1 sending to our database: € 1,000 excl.
The Measurement and CEM Network, a long history ...
● Partners from the start
● Regular joint actions
● The same desire to work to put measurement and instrumentation in the spotlight ...
● A specific action for the transformation of MSE 2020