To accompany
COVID-19 related measures
Coronavirus: Questions / answers for companies and employees
The Ministry of Labor has posted the "deconfinement protocol" that all companies must comply with.
It defines the rules and measures recommended for all companies and associations, in order to reopen their doors while limiting the risk of contamination as much as possible. It completes the set of good practice sheets also online on the website of the Ministry of Labor. 
Preparation for recovery:
From May 11, 2020, France is entering a period of gradual deconfinement. This implies a modification of the travel restrictions in force since March 17.
Find all the information on the deconfinement strategy on the platform:
government.fr/info-coronavirus 

The declaration is required when the displacement leads both to exit:
a perimeter defined by a circle with a radius of 100 km around the place of residence (the distance of 100 km is therefore calculated "as the crow flies"),
of the department.
It is not necessary to bring the declaration:
for trips of more than 100 km made within his department of residence.
for trips outside the department of residence, within the limit of 100km.
The deconfinement of the country began this Monday, May 11. The resumption of economic activities finds a very particular ground in Île-de-France, because of the central role of public transport in professional mobility. In order to facilitate the implementation of health measures for users, MEDEF Île-de-France and its partners have defined the "Organizational arrangements in Île-de-France for the use of public transport during a period of deconfinement".
As part of this regional agreement, Ile-de-France companies have therefore undertaken to promote teleworking and to stagger the arrival and departure times of their employees. A mandatory certificate of travel during peak hours on weekdays is now necessary in order to respect social distancing and to allow a better distribution of the number of people having to travel in Île-de-France.
You will find via this link the regional charter, the press release and the employer certificate, as well as the questions and answers on teleworking.
PROTECTIVE MEASURES, TESTS & MASKS 
- The update of measures to put in place by the employer to protect the health of employees
- Updating the plug on the employer's obligations
- The different guides health security of federations for business continuity by business sector
- The business advice sheets facing covid 19 of the Ministry of Labor
As teleworking is very likely to continue in the coming months, we offer you some advice on how to best manage the distance between teams in order to maintain a link and therefore a work dynamic.
We offer you :
• a file on remote management and the right reflexes to have to communicate at best with a dispersed team
• a teleworker guide which can be distributed to your employees
State guaranteed loan:
Partial Activity:
A ministerial decree modifying the annual quota of compensable hours for partial activity for the year 2020, dated March 31, 2020, was published in the Official Gazette of April 3: it increases this quota from 1,000 to 1,607 hours (ie the equivalent of an annual quota of full-time work based on the legal working time) per employee for the year 2020. This decree can be consulted here.
Article 5 of Ordinance No. 2020-460 of April 22, 2020 (Official Journal of April 23, 2020) hardens as of May 1, 2020 the contribution exemption scheme for the supplement paid by the employer beyond the amount of the legal partial activity compensation, that is to say above 70% of gross salary, when the base on which the legal partial activity compensation is calculated is greater than 4.5 SMIC
The government has announced that employees currently on a "covid-19" derogatory work stoppage will switch, on May 1, to the partial activity regime. The terms of implementation of this measure, provided for in article 20 of the second amending finance law, have been specified by the administration in the document below.
Highlights :
• The changeover to the partial activity regime is not automatic. Whatever the reason for the stoppage of work, the employer must make a request for partial activity for his employee within 30 days of May 1st.
• Only employees benefiting from an exceptional work stoppage are concerned: the employee who is a "vulnerable person", the employee sharing the same home as a vulnerable person and the employee who is the parent of a child subject to a measure of isolation, eviction or home support.
• For employees on leave for "vulnerable person", they must provide their employer with a medical certificate attesting to the need for isolation and therefore the impossibility of working.
• The partial activity allowance cannot be combined with the daily social security allowance or with the additional allowance paid by the employer.
• This measure applies from May 1 and at the latest until December 31, 2020 (a decree may terminate this system early).
• Self-employed workers who are, de facto, not affected by the partial activity scheme will be able to continue to benefit from the exceptional compensation scheme. They will have to renew their declaration process after May 1 either via the teleservice or with their doctor.
- Find out more (document from the Ministry of Health)
Deferral of charges
In the Press release on April 17, 2020, the Minister of Action and Public Accounts, Gérald Darmanin, adapts the calendar of the main tax deadlines for professionals for the month of May to take into account the health crisis.
Access the table summarizing the postponements of declaration and payment dates 

In addition, the Ministry of Labor published on April 6 a new update of its "questions and answers" relating to partial activity. The document is downloadable here.
Creation of a solidarity fund for small businesses

The State has set up, with the Regions, a solidarity fund endowed with 1 billion euros which will allow the payment of tax-free assistance to the smallest businesses, the self-employed, micro-entrepreneurs and liberal professions affected. by the coronavirus.

Ordinance No. 2020-317 of March 25 (in application of the emergency law) created this solidarity fund and provides that a decree will set the conditions for eligibility and allocation of aid, their amount and the conditions fund management.

In addition, the ordinance specifies that the fund is created for 3 months. It has already been replenished for the month of March and may be renewed if necessary depending on the evolution of containment measures and their impact on economic activities.

ASSISTANCE UP TO € 3,500

The solidarity fund has two components and can be complementary to other assistance mechanisms (partial unemployment compensation for employees, cash loan guarantee, postponement of social and tax deadlines, etc.)

·         First part : Up to € 1,500 depending on eligibility criteria, investigated and then paid directly by the Directorate General of Public Finances (DGFiP).

·         Second part : Additional aid for a lump sum of € 2,000, investigated by the Regions and then paid by the DGFiP, for the companies in greatest difficulty.

ELIGIBLE COMPANIES

VSEs (very small businesses), the self-employed, micro-entrepreneurs and the liberal professions are affected by this aid:

A company created before February 1, 2020

A workforce less than or equal to 10 employees

A turnover of less than € 1 million and an annual taxable profit of less than € 60,000

Not having had a declaration of cessation of payment before March 1, 2020

The manager of which does not have an employment contract or a retirement pension

Whose manager has not benefited from at least 2 weeks of sick leave in March 2020.

And having, in the context of Covid-19:

Or is the subject of an administrative closure

Or suffered a loss of 50 % in turnover in March 2020 compared to March 2019

Secondly, to benefit from the additional bonus of € 2,000, companies must comply with the following cumulative conditions:

Have at least 1 employee

Be unable to settle their debts due within 30 days

· Have been refused a cash loan of a reasonable amount by their bank.

APPROACHES

From April 1 : Requests to obtain the bonus of € 1,500 can be made on www.impots.gouv.fr.

From April 15th : requests for additional assistance of € 2,000 will be made on a platform opened by its Region.

SOURCE AND INFORMATION

https://www.economie.gouv.fr/coronavirus-soutien-entreprises

https://www.economie.gouv.fr/files/files/PDF/2020/DP-Fonds_de_solidarite.pdf

.
.
Specific Information for TNT users
Hospitals, clinics and other health establishments are delivered in priority. On the other hand, for security reasons and in accordance with government directives, as of this day and until further notice, FedEx now delivers only one point (commissary or reception, delivery or reception depending on the sites). Our drivers are no longer authorized to circulate inside establishments and to travel to all departments, but only to drop off all parcels in one place. Thank you for your understanding.
We confirm the resumption of activities in the Grand Est zone as follows: There is therefore no longer any restriction limited to essential products in this area.
We inform you that from this day, the packages which could not be delivered to their recipient are again kept for up to 10 days pending in our TNT agencies. Beyond this period and without instructions from you, they will automatically be returned to their sender. However, we invite you to continue to always check that your recipient is open before entrusting us with your shipments. Thank you for your understanding. From April 6 and until further notice, a temporary overload will be applied to all international FedEx Express and TNT packages and freight shipments to enable us to continue to provide the best possible service to our customers despite these exceptional circumstances.
For international shipments.
For TNT:
https://www.tnt.com/campaign/fr_fr/site/temporary-surcharge.html
For FedEx:
https://www.fedex.com/fr-fr/shipping/surcharges/temporary-surcharges.html?cmp=EMT-1005827-5-9-200-1000000-EU-FR-FR-FDXSURCHARGEDUA&ET_CID=793269&ET_RID=58454234&LINK=https%3a%2f%2fwww.fedex.com%2ffr-fr%2fshipping%2fsurcharges%2ftemporary-surcharges.html
---------------
Info coronavirus COVID-19 : in view of the exceptional circumstances, we make every effort to continue to serve you, but are sometimes forced, in certain geographical areas, to restrict our services: to find out more, we invite you to consult our alerts pages on tnt.fr and fedex.com/en.
Faced with new government restrictions and limitations imposed every day to stem the spread of the virus, we have also created a dedicated information site covering FedEx and TNT services.
CAUTION: given the situation, we thank you for checking that your recipients are open before entrusting us with your shipments.
Thank you for your understanding.
---------------
Information link of specific TNT / FEDEX measures: https://www.tnt.com/express/fr_fr/site/alertes.html
Initiatives and contacts are underway on masks, hydro-alcoholic gels, and other medical consumables :
https://www.entreprises.gouv.fr/covid-19/approvisionnement-en-masques-et-gel-hydroalcoolique
Masks: http://www.csfmodeluxe-masques.com/
Gels: https://stopcovid19.fr
The DGE wishes to extend this type of initiative to  personal protective equipment for caregivers (blouses, coveralls, gowns, overshoes, charlottes, gloves) or others medical consumables.
It invites companies that could convert their production lines in this direction to contact the unit set up: consumablemedical.dge@finances.gouv.fr
The Ile de France Region offers to help by opening its purchasing center, which has a range of products and services such as masks, hydroalcoholic gel, protective consumables and disinfection equipment, essential to fight against the Covid-19 epidemic. The Region is responsible for centralizing them and finding suppliers, French or foreign, whose product quality will be verified by its departments. To contact the purchasing center (email: centrale-achat@iledefrance.fr or by tel. : 01 53 85 70 50).
Do not hesitate to you s'' register the regional platform for solutions to federate and facilitate the connection between suppliers and applicants https://smartidf.services/fr/solutions-covid19 .
---------------------------------------------
Bruno Le Maire, Bpifrance and the French Banking Federation (FBF) have announced the launch of an unprecedented mechanism allowing the State to guarantee loans for 300 billion euros. These loans will help relieve the cash flow of businesses and professionals suffering the shock associated with the health emergency.
Until next December 31, companies of any size, regardless of the legal form of the company (in particular companies, traders, artisans, farmers, liberal professions, micro-entrepreneurs, associations and foundations having an economic activity), with the exception of real estate companies, credit institutions and finance companies, can ask their usual bank for a loan guaranteed by the State to support their cash flow.
This loan may represent up to 3 months of 2019 turnover, or two years of payroll for innovative companies or companies created since January 1, 2019. No repayment will be required for the first year; the company may choose to amortize the loan over a maximum period of five years.
>> Go to Press release
>> Go to Press kit with Q&A and product sheet
Coronavirus COVID-19: information, recommendations & health measures
Since January 2020, an epidemic of Coronavirus COVID-19 (ex 2019-nCoV) has spread from China. Find all the official answers to the questions you have about what the Coronavirus COVID-19 is and the recommendations for your health on the platform https://www.gouvernement.fr/info-coronavirus

Faced with the coronavirus, there are simple actions to preserve your health and that of those around you:
• Wash your hands very regularly;
• Cough or sneeze into your elbow or into a tissue;
• Use disposable tissues and throw them away;
• Greet without shaking hands, avoid hugs;
• Avoid gatherings, limit movement and contact.
On March 14, 2020, the Prime Minister decided, following the transition to stage 3 of the epidemic control plan and until further notice, to close all places open to the public that are not essential to life from the country.
A toll free number answers your questions 24 hours a day, 7 days a week: 0 800 130 000
Warning
, the telephone platform is not authorized to dispense medical advice, if you have the first signs of respiratory infections (fever or feeling of fever, cough) stay at home and call your doctor. If the signs worsen, call 15 or 114 for people who have difficulty speaking or hearing.
In order to best inform business leaders, a document listing all the measures that can be mobilized is accessible online on the website of the Ministry of the Economy and Finance.
Travel is recommended to be limited and the Government is taking measures to strengthening and simplifying the systems offered to employees and companies whose activity is impacted by the coronavirus - COVID-19 : telecommuting, partial activity and benefit of FNE-Training instead of partial activity in order to invest in the skills of employees in the event of a prolonged decline in activity.
The Ministry of Labor gives companies 30 days to declare their partial activity, with retroactive effect
A decree will therefore be taken in the next few days to reform the partial activity system, in order to cover 100% of the compensation paid to employees by companies, within the limit of 4.5 SMIC.
We ask you to find at the bottom of the page the press release from the Ministry of Labor concerning in particular the telecommuting, the distancing rules and the use of partial activity.
We ask our members to pay attention to financial support conditions
partial unemployment and technical unemployment.
Complete your procedures directly online on the portal https://activitepartielle.emploi.gouv.fr.
Partial activity is open to any business without any particular restriction, whatever its sector of activity. There is no condition for the payment of financial compensation once the request for placement of employees in partial activity is accepted by the administration.
Requests must be submitted on the dedicated portal (https://activitepartielle.emploi.gouv.fr/aparts/) upstream of the actual placement of employees in partial employment. If it is impossible to anticipate the request, employers are encouraged to submit it within a reasonable time after the start of the requested period. Instructions have been given to deal with requests related to Covid-19 as a priority in order to greatly reduce the effective investigation time.
In order to take into account the impact of the coronavirus epidemic on economic activity and, in accordance with the announcements of the President of the Republic, Gérald Darmanin opens the possibility of deferring the payment of social contributions due on April 5, 2020 and announcement accelerated reimbursement of tax credits on companies returnable in 2020 and VAT credits.
You will find via this link the press release by Gérald Darmanin of 03/22, announcing a strengthening of measures to help businesses.
URSSAF
Please note: Social security and tax deferrals are automatic, but are NOT AUTOMATIC; you must request them from URSSAF and DGFIP.
Measures relating to cash flow: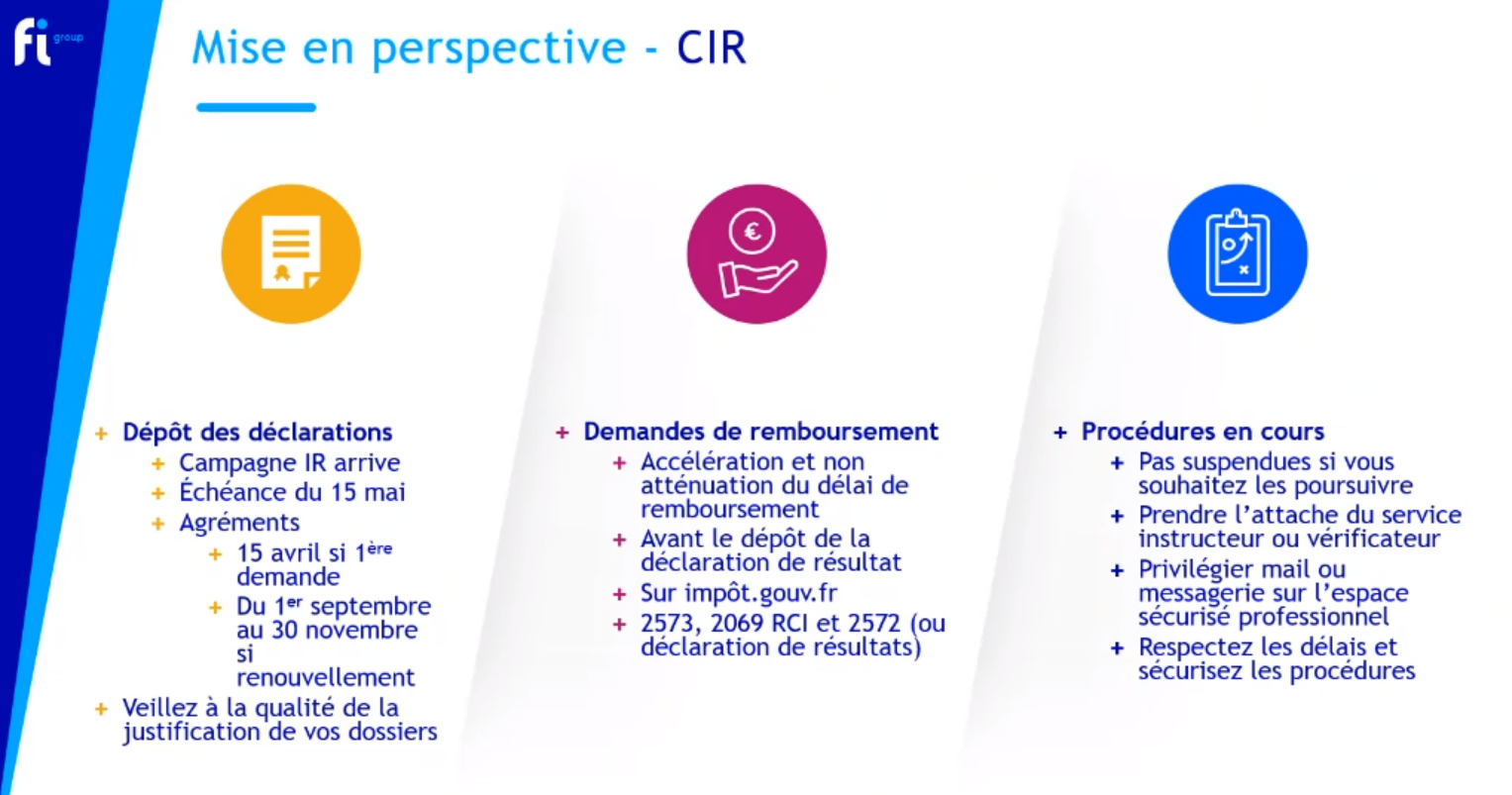 The Research Tax Credit: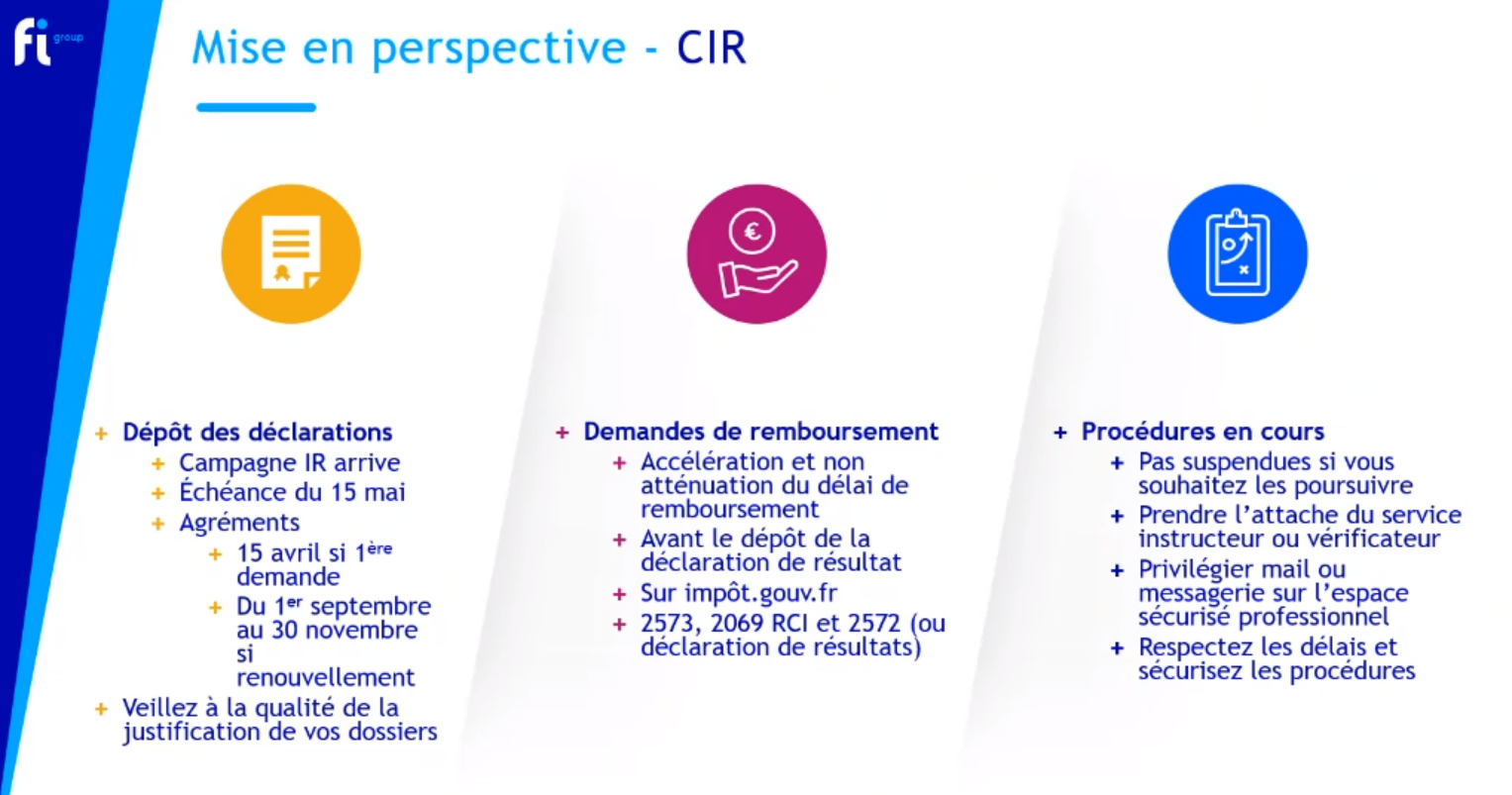 Your contact :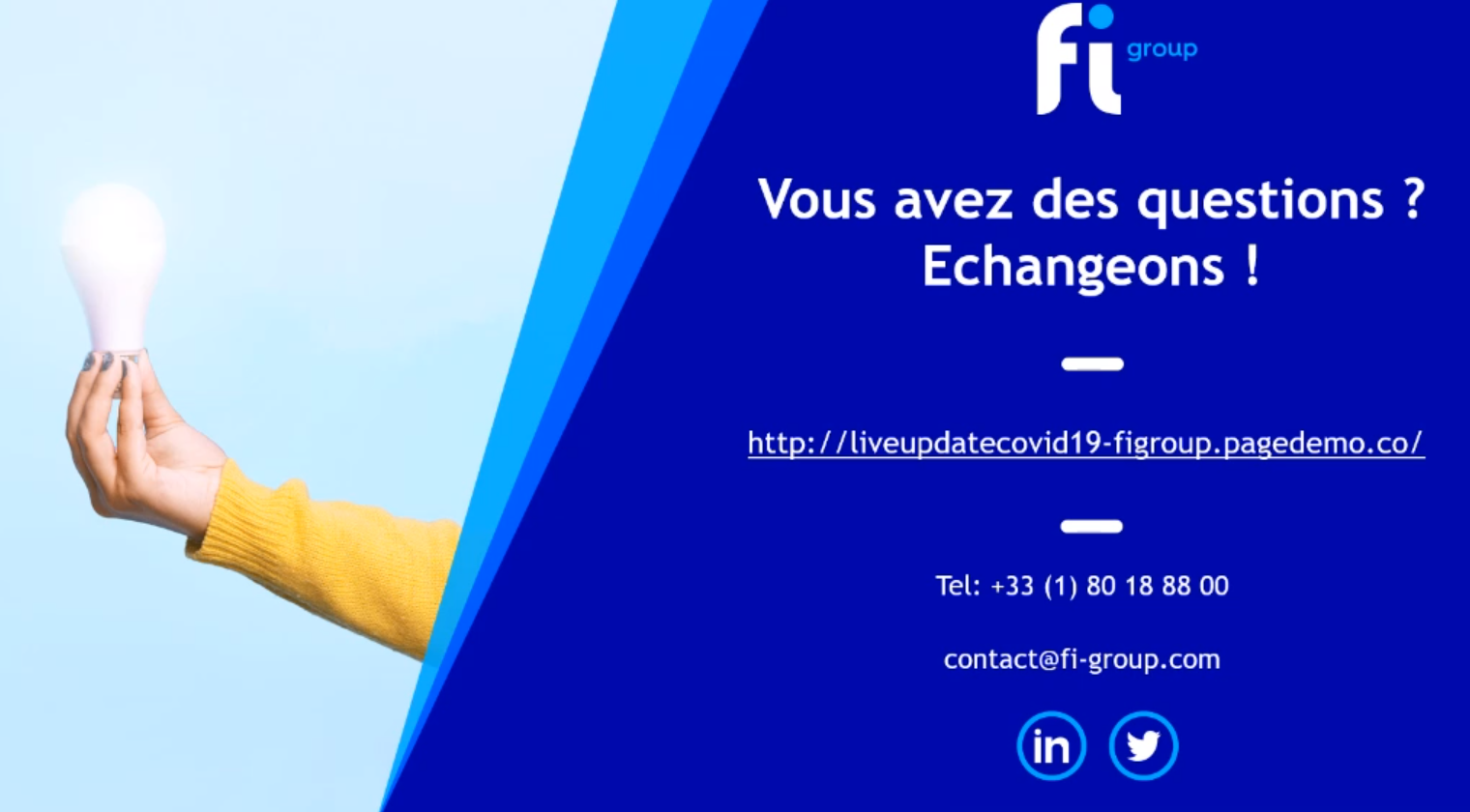 The partners of the Measurement Network are all mobilized to support you during this period.
here is a note of synthesis to answer your questions about the guarantees that can be mobilized in terms ofinsurance . It is not intended to answer all questions and does not take into account the specifics of specific clauses that could have been inserted in your contracts, but it allows you to see a little more clearly, especially on subjects such as demand understandable to many policyholders of loss of turnover support through the PE guarantee. All the Companies are on the same definition of PE, and even if sometimes the notion of administrative prohibition may appear following a contagious disease, the general character is mentioned in terms of exclusion. Which is the case with this pandemic.
As the days go by, insurance companies make adjustments to guarantees for current contracts, in particular in PREVIOUSNESS / HEALTH and also for damage guarantees due to teleworking or prolonged closures of Establishments.
CARPRASSUR contact: Didier Raux: didierraux@carprassur.fr
To note :
Lists of different services :
The tax services of the companies on which your establishment depends :
(see list: https://lannuaire.service-public.fr/navigation/sie)
Unique referees:
- DIRECCTE from your region
- Chamber of Trades
- Chamber of Commerce and Industry
You can contact the single DIRECCTE contact in your region, who is indicated to you at the following address: https://www.economie.gouv.fr/coronavirus-soutien-entreprises
For any other question on the system implemented in the face of the covid-19 epidemic, you can contact the unit set up within the DGE: covid.dge@finances.gouv.fr
CCI France  - entreprises-coronavirus@ccifrance.fr - 01 70 96 14 15
A regional organization "CCI URGENCE ENTREPRISE" is activated (number not surcharged 01 55 65 44 44) which relies on regional telephone platforms and employees at the level of each department. In total, more than 20 people per CCI have been responding since Monday March 16 to all questions from companies, directing them and providing personalized support and support in the process.
The updated contact details are available on the CCI and CMA website: https://www.cci.fr/coronavirus-entreprise#carteCCI http://covidcma.artisanat.fr/#/
URSSAF (by phone at 3957)
Setting up teleworking:
The telecommuting can be implemented when the adaptation of the workstation is necessary to allow the continuity of the activity of the company and to guarantee the protection of the employees.
Article L. 1222-11 of the Labor Code mentions the epidemic risk as being able to justify recourse to teleworking without the employee's consent.
The implementation of telework in this context does not require any particular formalism.
You will find all the information on the site:
https://travail-emploi.gouv.fr/actualites/l-actualite-du-ministere/article/coronavirus-questions-reponses-pour-les-entreprises-et-les-salaries
Obtaining or maintaining a bank loan via Bpifrance (guarantor of cash loans in case of need):
Bpifrance has implemented a series of measures:
In terms of warranty:
Increase in bank guarantees to 90 %;
Guarantee at 90 % of overdrafts confirmed by banks from 12 to 18 months.
And direct cash support:
Granting of unsecured loans over 3 to 5 years of 10 KEUR to 5 MEUR for SMEs and ETI and up to several tens of MEUR for ETI with a significant deferred repayment;
Cash credit of 30 % for short-term customers (mobilization of invoices);
Suspension from March 16 of all maturities of loans granted by Bpifrance.
A debt spreading plan (depending on the case) with the support of the State and the Banque de France:
Credit Mediation Site: https://mediateur-credit.banque-france.fr/
As of last week, banks expressed their total mobilization to support their clients, in particular traders, professionals, small and medium-sized businesses, who could face difficulties resulting from the development of the coronavirus epidemic that could temporarily impact their activity. French banks will be at their side to support them during this exceptional period.
Banks will examine with particular attention the individual situations of their merchant, professional, small and medium-sized business customers, impacted in the most directly exposed business sectors and will in particular seek the solutions most suited to short-term financing needs.
Support for dealing with a conflict with customers or suppliers:
Regarding public contracts, we remind you that the State has recognized the Coronavirus as a case of force majeure for its public contracts: no late payment penalty can therefore be applied.
Regarding public procurement by local authorities, Minister Bruno Le Maire recommended that late payment penalties be non-applicable to companies, but it will be up to each local authority to decide.
All this information is available on the website of the Ministry of Labor: https://travail-emploi.gouv.fr/actualites/l-actualite-du-ministere/coronavirus-questions-reponses-entreprises-salaries
The school of my child under 16 is closed, what steps should I follow?
General and sanitary information:
Government Questions / Answers About COVID-19
Update on the current state in France via the website of the Ministry of Health as well as its news and recommendations
The good practices to adopt to prevent the spread of the virus and know how to detect symptoms if necessary
Covid-19: The Health Insurance extends the declare.ameli.fr teleservice to people at high risk
References :
https://travail-emploi.gouv.fr/IMG/pdf/covid19_obligations_employeur.pdf
https://travail-emploi.gouv.fr/actualites/l-actualite-du-ministere/article/coronavirus-questions-reponses-pour-les-entreprises-et-les-salaries
https://travail-emploi.gouv.fr/actualites/l-actualite-du-ministere/article/coronavirus-covid-19-fiches-conseils-metiers-pour-les-salaries-et-les
Beyond the simple administrative document, it is a question of updating, supplementing and bringing to life / applying the DUERP, Single Document for the Assessment of Occupational Risks, if possible, from April 2020.
For that :
You can make the changes yourself, or entrust them to a qualified employee f / h
You can ask your usual service provider
Note that the GEYVO can involve QSE managers made available to member companies of the Measurement Network - 01 88 26 01 78 - contact@geyvo.fr - www.geyvo.fr
In the context of the coronavirus epidemic, the European Commission has released the following documents:
1) PPE conformity assessment procedures (masks, etc.)
2) Guide to applicable legislation for leave-in hand cleaners and disinfectants (gel, solution, etc.)
3) Conformity assessment procedures for 3D printing and 3D printed products for use in a medical setting for COVID-19
The aim is to help manufacturers speed up production of these essential medical equipment and materials.
These documents also aim to help manufacturers and market surveillance authorities to ensure that these products meet necessary safety standards and are effective.
A guide on medical devices will also be made available in the coming days.